Last reviewed: 24/9/2019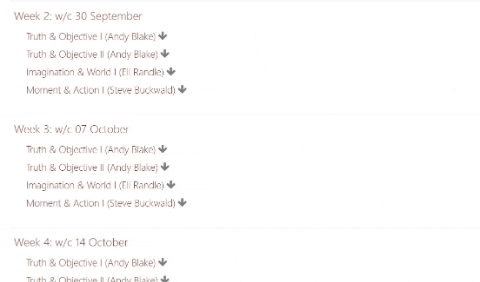 Bootstrap Toggle allows users to create expandable module content areas presenting information more succinctly.
Our Acting department colleagues have been successfully using Bootstrap Toggle in their Moodle modules, which allowed them to fit a lot of information in without making their module pages look too busy.
How to add Bootstrap Toggle as an activity to your Moodle module
Step 1: Turn editing on (you can do this by clicking on the cog menu on the top right hand side of your module page) to make changes to your module contents (Fig. 1).
Step 2: Navigate to topic/week and select '+ Add an activity or resource'.
Step 3: A pop up window will appear with a number of options for activities or resources to add to the topic. Under RESOURCES section (you may need to scroll down) find Bootstrap Elements (Fig 2). Click 'Add'.
Step 4: Give your activity a Title and add Content (this can be your text, images links – anything you want). Then select Element Type – we recommend Toggle (which expands do display content when clicking on the Title). See Fig. 3.
You also get an option to select an icon – you can leave this blank, or pick an icon to display on the left side of the Title (see Fig. 4).
Step 5: Click 'Save and return to course' when finished and review the activity in topic.
Even if you add an icon, you will see that a grey arrow icon will be shown on the left of the Title by default (Fig. 5). This one is interactive and changes direction based on the selection setting.